Reception 2015-16
Dear Parents/Carers,                         Spring Term 2 2016
This half term our topic is 'Changes and Growth'. As part of our topic, we will sequence photographs and discuss the changes that occur in humans and animals as they grow up. We will be talking to the children about how they have changed since they were born. To help us do this, we would very much appreciate it if the children could bring in photographs of themselves as babies.
We will be using the story "The Hungry Caterpillar" and various non-fiction books as a base for our Literacy this half term. In Maths, there will be an emphasis on subtraction, doubling and halving, height, capacity and problem solving.
World Book Week is the week beginning 21st March. If any of you would like to come in and read with your child, please speak to the class teacher. More details will follow in the Wednesday letter.
Can we also request that your child brings their book bag and books to school every day. This allows flexibility within reading groups.
We also would like to thank you for reading with your child at home every day. Before bed is a fantastic time to share the book with your child.
Thank you to those parents who support us by writing in their child's reading diaries; it really helps to have a dialogue between us and helps your child progress with their reading.
Thank you for encouraging your child's independence in looking after their belongings and putting on and fastening their own coats. We are seeing much more of an improvement. This will also, in turn, help their fine and gross motor skills.
As always, the Wednesday letter is full of useful information so please do read it with your child every week.
Thank you for your continuing support.
Reception Staff
****************************************
Reception Inspire Workshop
Thursday 14th January 2016
Great Workshop, Mustafa had a great time and showed me his pattern making and spelling. Thank you.
I liked this workshop very much it was so nice.
We have had lots of fun. We have learnt new strategies to reach our children.
Thank you. We had a lovely time, we loved it.
I liked todays Workshop it was nice and fun.
I had a really good time today with my son, he really enjoyed all the activities on today and really likes all the different things we had to do today. I think these Workshops are a really good idea and fun and good for the kids and parents. Thank you.
Thank you, had a lovely time with my son.
It was very very nice working with Yusuf and his teachers. Thank you for giving us the chance to sit and see how they work at school.
Really enjoyed myself watching my son actively getting involved and appreciate spending a moment doing what he likes to do.
It was very useful and informative workshop.
It was a nice experience. Learnt lots of things and learnt how to help them with different things.
I enjoyed it very much, had lots of fun. Thank you.
Very interesting activities, really enjoyed ourselves.
Workshop is really interesting for parents with children. Very nice activity done with children. Well done!
Had a lovely time with Akshat, could see how Akshat has settled in and is so much better and calmed down from before. Thank you for inviting us.
Lovely morning, didn't want to leave.
Thank you for a lovely time, it was very helpful, I am grateful for your help.
I enjoyed the workshop today. Thank you.
********************************************************
Wednesday 4th November Reception Phonics and Reading Workshop
"Great phonics workshop this morning. Really helped to explain the technical jargon that the children learn. Most of all I can see how to help my child in a fun way at home."
"Great phonics workshop this morning. Really helped to explain the technical jargon that the children learn. Most of all I can see how to help my child in a fun way at home."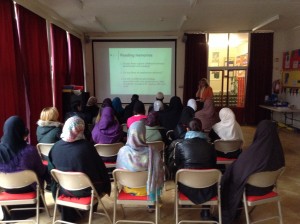 "Brilliant, am glad I came. Reading in a fun way and teaching a different way to when I was young. I found the split diagrams very interesting and something I will use at home."
"Enjoyed workshop shows how important these sessions are, it showed how to use phonics with my child."
"Very good workshop, learnt a lot I didn't know, some things even existed like phonics.  Explained very well."