Reception 2016-17
RW we are so creative in RW! This is an alien zapper spaceship, designed and made by one of our children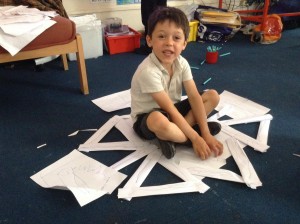 Summer Term 1 2017
 Dear Parents/Carers,
 This half term our topic is 'Journeys'. The children will be learning about different modes of transport, holidays and places around the world. If the children would like to bring in any photos of trips or holidays, we would like them to share their experiences with us.
 Reception are also very lucky to be going on a trip (or journey) to Ash End Farm on Monday 8th May. A letter with more information will be coming to you shortly.
 In Literacy we are focusing our learning on our trip to the farm and we will be doing lots of different types of writing about this. We will also be looking at lots of non-fiction texts and discussing the differences between these and fiction texts.
 In Maths we will be continuing to look at numbers, including addition and subtraction through problem solving as well as continuing to learn how to halve and double amounts.
 There will be class assemblies by RLA on Wednesday 3rd May and RW on Wednesday 17th May at 9 am. We look forward to seeing you there!
 We are extremely lucky to be having the 'Living Egg Programme' coming to Reception and Nursery during the third week. This is an opportunity for the children to look after eggs in an incubator and watch them hatch before they return to the farm.
 Please continue to support your child with their reading at home and read with them every day. There is also "talk homework" on the Wednesday Letter which gives the children a chance to discuss a set topic with you at home.
 We will start sending home some key words and small tasks so please check your child's book bag for these. Please remember, sometimes class teachers will write about your child's targets in their reading diaries, so please make sure you read them regularly. Every week that there are comments from you in your child's diary, they will get a tick on the class chart; when they get 5 ticks, they win a prize and when they get 10 ticks they win a book.
 Please make sure your child has a PE kit including pumps available in school at all times.
 Thank you for your continued support concerning attendance and punctuality! Don't forget, if your child gets 100% attendance in a week, they have the chance to take Jofli Bear home for the weekend and to win a prize in class.
Regards.
The Reception Team
**************************************
We have been reading at home such a lot and are so proud when they get 10 comments and win a book to keep!

***********************************************************************************
RW here are some of our lanterns! we had so much fun learning about Chinese New Year.
RW today (19th January) we have been using our phonics knowledge to label things around the classroom

!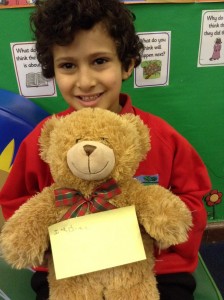 ****************************************************************************************************************************
Dear Parents/Carers,
We hope you all had an enjoyable break and would like to wish you a happy new year! This term looks to be very exciting, with the children learning about 'Colours'. Through this topic, they will be looking at colour mixing, patterns and the books 'I do not eat the colour green', 'The Gingerbread Man' and 'Elmer', as well as being introduced to non-fiction texts. They will also be continuing with PATHS, learning about managing feelings.
There will be a Maths Inspire workshop on 12th January: RL and RLA will be in the morning, RW in the afternoon. We look forward to seeing you there!
Thank you for your co-operation in reading with your children at home. Please ensure that book bags are brought in every day and that you write in your child's reading diary.
As Reception do some of their learning outside, can we please remind you that all suitable winter clothing, i.e. gloves, hats and scarves, need to be labelled. Wellington boots can be kept in a carrier bag on your child's peg so they are accessible at all times. Please ensure your child has their PE kit in school at all times and that each item is clearly labelled.
Daily attendance is crucial to your child's learning. The attendance competition is continuing; wouldn't it be fantastic if a Reception class won this half term's prize! Look out for your class' latest attendance figures in the Wednesday letter and on the classroom doors. We will be continuing to send home Jofli Bear with a child who has achieved 100% attendance for the week. The bears have had a wonderful time staying with you! Please read and share your own experiences in the diaries.
Punctuality is equally important: school starts at 8.50am.
Keep up to date with everything that happens at school in the weekly Wednesday letter!
Thank you for your continuing support.
The Reception Team
*******************************************
Maths Inspire Workshop on Tuesday 22nd November  for parents only, to learn about how subjects are taught in school.
Below are some comments from parents who have recently attended the workshops.  Reception's were connected with reading and all other year groups with maths.
Thank you so much for all your hard work. I have the utmost respect for you all.  It was a pleasure attending the workshop and spending quality time with my child and the finest teachers of all.
What a fun-filled workshop! I really enjoyed spending some time with my son. We learn so much though playing.  It's really amazing how the kids are being taught at school!  Looking forward to more workshops.
It was really helpful for the children and for us. Thank you so much for doing the hard work to support our children.  Well done – really good work.  Well done to all the teachers.
I was really happy with the workshop and look forward to attending each time. It's a great way to learn together and recognise what and how they learn, which can then be implemented at home.  Keep up the good work,   teachers .
Today has been fantastic! The teacher has made maths fun again!  Have really enjoyed today, along with my son and friends.
It was brill!
Nice to see how maths is taught in Year 3. Lovely opportunity to come in and work with my child.
It was very nice to see how my child works at school and how she listens to the teacher. Thank you and hope to work again with her and the teachers..
I found it very helpful so I can help my son at home.
A really good and fun workshop. I enjoyed working with my child and the staff were wonderful.  Looking forward to the next one.
Thank you so much for letting us attend these workshops. They help us learn something new each time and we also get to have a clear insight of how our children are being taught at school.
It was an amazing experience to work alongside my child.
Challenging but fun!
That was great fun and has given me lots of ideas for home.
I would like to thank all the staff for the help given to my son and me with maths.
I really enjoyed the challenging aspects of the activities and the ways they will help the children in their maths. I will be trying different ways at home too.
I didn't understand the instructions for the block towers but I really enjoyed working with my daughter.
**************************************
Dear Parents,
It has been a fantastic start to this half term, with everyone settling back into school life very well.
In Literacy this half term we will be continuing to look at 'Jack and the Beanstalk' and we will also be looking at the traditional story, 'Little Red Hen', focusing on the children's ability to re-tell a story in full sentences and answer questions relating to the story.
In Maths we will be focusing on the vocabulary involved in addition and subtraction, starting on one more and one less than a number to 10 as well as the language of size and shape. Recognising numerals and matching them to the correct quantity will also be a focus for each class.
Our topic is Ourselves and Our World. We will be focusing on how we keep ourselves healthy.
This term the children will also continue to attend some assemblies to increase their awareness of – and involvement in – school life.
We will be holding a Maths Inspire Workshop on Wednesday 23rd November for parents to come and work alongside their child. RL and RW will have theirs in the morning and RLA in the afternoon.
Please do remember it is very important for your child to bring their book bag to school every day. This is so we are able to change their reading books and read with your child as often as possible as well as start or continue a dialogue with you when needed.
Thank you to those parents who take the time to do the weekly homework with their children and return it. This will also give insight as to the phonics your child has been learning throughout the week – you can look for these letters in books you read together and your child can tell you the sound the letter makes.
Please do remember how important it is for your child to come to school every day and on time so they do not miss any of the exciting learning activities we plan for them! If your child comes to school every day for a week, they have the opportunity to bring home the attendance bear to take care of and enjoy over a weekend. Please take photos and write in his diary so the whole class can share the joy.
Look out for news about Diwali and Children in Need in the Wednesday letter!
Many thanks,
The Reception Team
*********************
RL are making their own masks for role play today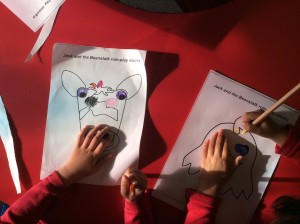 Today RL printed some Autumn leaves and started learning about a boy named Jack and his magic beans.